The dictionary defines technology as "the application of scientific knowledge for practical purposes,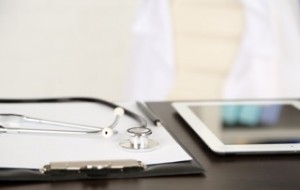 especially in industry." Since the dawn of time, humans have been making technological advancements, from inventions as simple and now-commonplace as pulleys and levers to the more complicated and ever-improving engines, vehicles, and of course, computers.
It's been said many times that we're in a period of rapid technological advancement as developers continue to create apps and gadgets that simplify everyday tasks both at home and at work. No industry has been left untouched by this noteworthy boom; every profession, from construction to teaching and beyond has gained access to a host of benefits that were never even thought possible in previous years.
In particular, the medical field has been revolutionized by new technology, with analysts believing that many more positive changes are on the way. Here are 3 predictions for how technology will help establish the "doctor's office of the future:"
More patients will interact with doctors in virtual appointments. We've already witnessed the introduction of the virtual doctor's appointment, during which doctors and patients connect via video chat to diagnose minor illnesses or to authorize prescription refills. Most market analysts believe that this trend will only continue to rise, helping clinics both large and small to save time and increase efficiency and profit. Currently, developers are searching for ways to work out liability issues within telemedicine, specifically related to the online transmission of medical information and maintaining HIPAA compliance during virtual appointments.
Patients will gain more control over their medical records. A survey conducted by Wolters Kluwer Health revealed that only 19 percent of patients can access their personal medical records, even though 80 percent of those studied indicated that they wanted more control over what's noted in their charts. This makes sense, considering that much of a patient's health narrative is lost in physician note-taking for the sake of expedient diagnosis and care. However, particularly in smaller direct-care practices, physicians are able to chart medical records together with their patients to help gain a more complete picture of their health status, and experts believe that this trend could expand to all practices. In particular, doctors could email forms to their patients a pre-made form a day or two before their appointments, reviewing them and forming questions to help them learn more.
Wearable technology will be a great tool for gaining medical insight. You've probably heard of wearable devices like the FitBit that allow users to track their activity levels and sleep patterns to create a healthier lifestyle. As wearable technology continues to evolve, medical experts have noticed great potential for these gadgets to collect information about heart rate, diet, sleep interruptions and so on. Once patients are able to plug in their tracked data to their medical records, physicians will gain a more complete look at the patient's daily habits and lifestyle to better identify any problem areas and identify potential for preventive measures.
While these developments will revolutionize the medical field, there are still a number of hurdles to cross before they can be fully implemented. In particular, physicians must ensure that any newly adopted technology remains within the realm of HIPAA compliance, maintaining absolute confidentiality for their patients.
If you work at a small medical practice and want to upgrade your systems, it's important that you get in touch with a team of IT experts to help ensure all of your measures are HIPAA compliant. When you're ready to get started, call Firewall Computer Services at (407) 647-3430 to schedule your appointment.