We care about your Insurance Business

In the insurance industry you handle very sensitive data of your clients that need to be safe and always available. In addition we understand that any time of computer downtime is lost money in your industry.
With our in depth knowledge of the technical requirements of the insurance industry our computer technicians at Firewall Computer Services know what to do to have your server and computer network running as efficient, secure and reliable as possible so you can focus on your clients.
Our extended knowledge working with the insurance industry includes the following software products:
Microsoft Office 2003-2013
Adobe Acrobat PDF
Support All Online Carriers
HawkSoft
QuickBooks
Citrix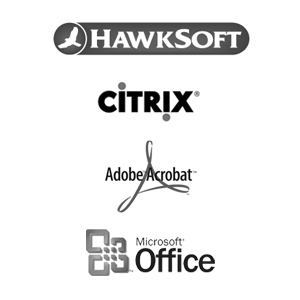 Our Services
Plans & Pricing
Immediate I.T. Support
Speed Up Computers
Remove Spyware
Recover Lost Data
Repair Laptops
Mobile Support
Remote Access Support
Fix Email Problems
Get a quote
Monthly I.T. Support
System Maintenance
Virus-Free Guarantee
Patch Management
Software Updates
Anti-Spam Filter
Email & Web Hosting
Data Backups
Starting $25/month
Overall I.T. Support
New Installation
Strategic Planning
Asset Purchasing
Inventory Auditing
License Management
Cloud Migration
IT Managed Services
Get a quote
Industries We Serve
"I have been a small business owner for 22 years. My firm has engaged 100's of different vendors over the years. The staff at Firewall CS would rank as the number 1 vendor I have ever engaged. They are knowledgeable, efficient & looks for ways to save my firm money. I enthusiastically recommend Firewall Computer Services!"
Stephen Lang, President – SunKey Insurance Store, Inc., Winter Park, FL