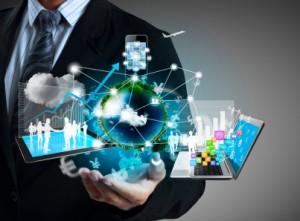 Being in the Orlando IT industry, we see tech trends everywhere. Some have an impact on the businesses we serve, and some don't. Here are 5 trends we've identified that have been having an impact in the business world for some time – and are continuing to have an impact into the future.
Computing in the cloud (Office 365 and Google Office) is growing.
Cloud computing services like Office 365 and Google Office continue to increase in popularity in the small business crowd for a number of reasons, including the fact that collaboration on documents between users is far easier than on traditional software, since multiple users can edit various documents in real-time. This, coupled with (generally) lower pricing and increasingly better offline editing abilities, are just a few reasons why the small business world continues to embrace these kinds of services into their businesses.
Smartphones are (still) a "need to have" item.
It has taken businesses some time to realize that smartphones ARE, in fact, a productivity tool. Yes, there are plenty of time-wasting apps for smartphones, but there is also a huge selection of productivity tools for smartphones that businesses can't ignore. Smartphones allow employees to be better-connected to customers, other employees, and management. When used appropriately, smartphones can also give management faster access to data – making it easier to tweak sales pitches, marketing materials and presentations on the go.
Remote Spyware Protection and Virus Detection is the Norm.
Long after the emergence of the first virus and spyware, neither is going away anytime soon. So, rather than have someone internally deal with the constant threat of viruses and other malware, companies are choosing to outsource this task to manage IT companies who ensure that businesses are protected. This kind of protection is crucial – especially if a company allows employees to surf the web. It doesn't take much for an employee to open an infected email attachment, or to click on a link to a site designed to infect computers with spyware. Remote protection and detection solves this issue.
The shift from server-based computing to cloud computing.
Yes, we talked about the trend of Software as a Service (SaaS) products such as Office365 and Google Office, but there are plenty of other reasons to use the cloud as well. Plenty of long-standing, reliable applications are making the move to the cloud – freeing employees from their networked laptops and desktop and allowing them to work more effectively from more locations. Many small business IT departments are choosing to make the move to the cloud instead of investing in new servers and software as a way to save money and boost productivity among the workforce.
Outsourced Offsite Backup and Monitoring.
With companies generating more and more data, it's important to keep it safe and secure. Often, that means backing up data to a remote location or even multiple locations. Most managed It providers are offering this service to protect their clients from disaster and to ensure a swift recovery if data is ever lost. Again, it's one of those things that is important to business operations, but doesn't necessarily warrant having a dedicated, internal employee do the task.
Like we said, trends are everywhere, and as we identify the ones that are impacting businesses, we'll bring them to you.  For more information on the Orlando IT industry, give Firewall Computer Services a call today at 407-647-3430. We'd love to help!
24/7 Business IT Services in Orlando, Winter Park, Maitland
If you need immediate IT services in Orlando and the surrounding area, feel free to call our 24/7 IT support team at Firewall Consulting.