Technology is always advancing and this past year has been no exception. With so many business technology trends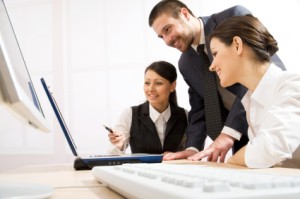 arising in 2013, it's hard to know which ones you should pay attention to and what will more than likely just be fads. At Firewall Computer Services, our Orlando IT support team takes the time to assess each client's business's individual needs. We then use our knowledge of current technologically advanced options to suggest software and data storage solutions that are convenient for day-to-day business tasks and meet the company's needs. Here are five of the biggest technological advances that we're recommending all our clients implement in 2014.
1)     Doing business on mobile devices. If the most 'mobile' you get is your laptop, you should really look into doing business on your mobile phone or tablet. There are so many business-focused apps, many of which are free, that can aid you in closing deals or storing documents on your device.
2)     Shopping for scalable data plans. Since mobile devices have become vital to your business, it's important to have a data plan that won't put you into debt. Phone and data companies are introducing scalable data plans that don't pin you to a ridiculously high rate for exceeding the monthly data or minute usage limit.
3)     Implementing cross-device software. Businesses use so many devices nowadays including desktops computers, laptops, tablets, and phones. It makes working remotely easier if you can access the same software programs on each device. Many new software programs offer a cross-device option for users.
4)     Cloud storage. At Firewall Computer Services, we've helped many clients to set up a cloud storage data program that suits their style of business. These cloud storage programs are a more secure way to store data. However, they allow for easy access to the information whenever needed.
5)     Relevant and Up-to-Date Virus Protection. We can't stress enough the importance of good virus protection software, especially on computers used for business purposes. Computer hackers are developing sophisticated viruses and malware capable of wiping out computers and stealing sensitive data. At Firewall Computer Services, we suspect 2014 will just bring more of the same advanced hacking techniques. It's important to protect your computers as much as possible.
Just like this past year, 2014 will bring about new technological advancements and easier ways to do business. If you're interested in learning how to technologically streamline the way you do business, give Firewall Computer Services a call today!
24/7 Business IT Services Orlando, Winter Park, Maitland
If you need immediate IT services in Orlando and the surrounding area, feel free to call our 24/7 Orlando IT support team at Firewall Consulting.