If you're in business and you have a sales force, team of employees or customers who need to see video or presentations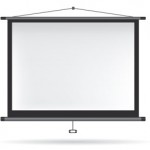 live – then you need a portable projector. From monthly meetings to review data to salesmen on the road, interacting with prospects, portable projectors are a valuable asset for delivering information to in-person audiences quickly and effectively.
But not all portable projects are created, or priced, equally. Today we'll take a look at three of them, all priced under $700, that should be contenders for the needs of just about any business.
The Epson EX3212 SVGA 3LCD Projector – $479.00
Pros – Reasonably bright projection, 2,800-lumen rating. Light enough to carry on the road. Comes with an HDMI port. Superior data image quality.
Cons – No optical zoom available. Limited volume audio means you'll want some external sound assistance unless you're in a small-medium conference room.
The Epson EX3212 SVGA 3LCD is a typical business projector with SVGA (800×600) resolution. As such, it doesn't offer adequate resolution for images that contain fine details, like engineering drawings or high-resolution photography. But, for the typical PowerPoint presentation, this kind of projector (and price) can't be beat. The EX3212 gives users a bright image, high-quality video output, and adequate portability. We say "adequate" because it does weigh 5.1lbs which is about middle-of the road in terms of weight.
Bottom Line – The Epson EX3212 SVGA 3LCD Projector gives users a reasonably bright, high-quality image, portable weight, and a price that's right for those who don't need bells and whistles.
Optoma ML1000P – $698.00
Pros – Portable LED projector with decent brightness. Files can be read from microSD cards and USB memory keys. Available HDMI port.
Cons – Touchpad controls are somewhat touchy. Has been known to show scaling artifacts (unwanted patterns added to some screens) at its native resolution.
At about 3 pounds the Optoma ML1000P is the same weight as some older 500-lumen models, but portability is well noted with its 1.9 by 10.6 by 6.7 inches (HWD) size and soft carrying case. But it's not just portable because of its size – it's also portable because of what you can leave behind – namely your laptop. You can display photos, videos, audio, and PDF files direct from your USB memory stick or microSD card.
Bottom Line – The Optoma ML1000P is a powerful LED, WXGA (1280×800) projector in many ways, but it literally outshines other projectors with a1,000-lumen rating.
Acer K137 $599.00
Pros – Solid audio for a tiny projector. Compact. Featherweight. Long lamp life. 3D capable. Good set of connectivity choices.
Cons – Shows scaling artifacts at its claimed native resolution. Poor text quality. Best used in a small, dark room.
The Acer K137 projector has native WXGA (1280×800) resolution, a brightness of 700 lumens, and a 10,000:1 contrast ratio. With an LED light source rated at 20,000 hours (Normal mode) and 30,000 hours (Economy mode), the bulb should last the lifetime of the device. The Acer model has more ports than similar models, including: universal I/O port for connecting to a computer, a USB type B port, and an HDMI port (which supports MHL). It has a USB type A port that fits a USB thumb drive or an optional Wi-Fi adapter, and a micro-SD card slot, allowing users to run presentations without a computer.
Bottom Line – The Acer K137 has surprisingly crisp and robust audio for a projector of its size.
A Projector for Every Business and Budget
The three projectors we've showcased here are all portable, and as with most electronics, the number of features goes up and down with price – the more money you spend, the more features you get. But the truth is, not every business needs (or wants) a projector that's so feature-laden that it slips out of budget range. For $700 (or less) you can get a business-class projector that gives plenty of features that can fit into most budgets. For more information, call Firewall Computer Services at 407.647.3430.