If you pay any amount of attention to all the sleek marketing we see for the latest tablet, hybrid, laptop and other "books"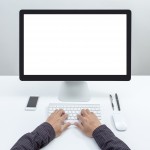 you might assume the desktop computer is long-dead. However, this couldn't be farther from the truth. Sure tablets and laptops are cool and portable, but for business and home office computing that doesn't require portability, there's no better solution than a desktop computer.
In fact, there's a desktop for every budget. Today we'll take a look at some of the more popular models between $169.00 and $1,749.99.
Asus Chromebox M004U $169.00
Even before you get it off the shelf and into your office, the Asus Chromebox M004Uhas two very important things going for it: It's compact and very inexpensive. Once you get it set up, you'll appreciate that it boots up and loads fast. From there, it's a really nice computer with plenty of USB ports, and all your bookmarks and settings are synced via Google.
On the downside of the Asus Chromebox M004U: 16GB total local storage. That barely handles a day worth on files for some people. So, be ready for cloud or external storage – and set aside a few extra dollars for mouse and keyboard, as those don't come standard. But don't let these things keep you from considering the Asus Chromebox M004U as an alternative to buying a low-cost Windows desktop. For the price you pay, the Asus Chromebox M004U is worth every penny.
Lenovo ThinkCentre M93p Tiny $616.55
It has multi-monitor support, ships with Windows 7 Professional pre-installed, five USB 3.0 ports, and it's extremely compact to boot. If you need a desktop PC that doesn't take up much desktop space, Lenovo might have the product for your you and your business or home office. On the flip side, the Lenovo ThinkCentre M93p Tiny requires an adapter for HDMI, has no room for internal expansion, and it does not support 5GHz Wi-Fi.
The pros seriously outweigh the cons in the case of the small, yet powerful Lenovo ThinkCentre M93p Tiny. It has a spot in our top picks for a reason and no matter how big your business is, it's guaranteed to fit and work well.
HP EliteOne 800 $1,150.54
HP is taking the all-in-one desktop game to a new level with the HP EliteOne 800, and it shows. Powered by a fourth-generation Intel Core i7 processor and solid-state drive, the HP EliteOne 800 features a 10-point touch screen, six USB ports, Windows 7 Professional downgrade and you can mount it on the wall – something that's becoming very popular as many offices make the move toward better ergonomics.
However, even if you do mount the HP EliteOne 800 on the wall, you still need to access the rear for the input/output ports. A small inconvenience, but still important to know. For offices (and desks) that are tight on space, the HP EliteOne 800 just makes good business sense.
Apple iMac 27-inch (Intel Core i5-4670) $1749.99
It's everything you'd expect in an iMac and maybe a bit more. With its amazingly thin design and low-glare screen, it has the same great iMac look, and once you dig inside, you'll find the impressive looks are supported by even more impressive performance. Apple has included the newest 4th-generation Intel Core i5 quad-core processor and Nvidia GeForce GTX 775M Kepler graphics to make the Apple iMac 27-inch (Intel Core i5-4670) among the most coveted desktop computers – as well as the most popular all-in-one solution. Don't forget that the iMac comes with a wide range of applications that have done nothing but get better over the years: iPhoto, iTunes, Mail and more.
Sure, it would be nice to have a touch screen, and we don't know why Apple decided that an SD card slot would be useful in the back, but these things are easily overlooked once you realize the computing power contained within.
There you have it – a strong group of desktop computers that are ideal for a wide-range of business and home-office applications. Some are smaller and more affordable than others, but make no mistake – each is powerful enough to handle the typical day-to-day computing requirements of just about any business.