As a managed IT support company offering business computer support in Orlando, we get lots of business professionals asking us about using mobile devices in the workplace.
It's rare to see a business with employees that don't have a smartphone or tablet they use professionally nowadays. These devices have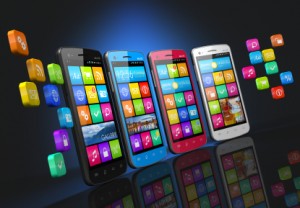 become popular for taking notes in meetings, recording interviews, visually aiding a sales presentation, and finishing online paperwork to close a deal on the spot. As a business owner, mobile devices can increase productivity in your employees, but it's important to keep the practice regulated.
The inundation of mobile devices in the workplace can be dangerous for the confidentiality of clients and your business. While it's important to encourage this mobile productivity, you may want to consider mobility and security issues and address them before they become a problem in your business. At Firewall Computer Services, our technology experts have navigated the rough waters of secure business mobility and can guide you in implementing policies for your staff. Here are a few things you may want to address.
Using a personal device. If your company has issued smartphones or tablets to your staff for business use, will you be strict about the use of only these devices? Some employees find it easier to use their personal devices since they're used to them. An employee who uses the same device for personal and business use may compromise your company's data and confidential procedures. Decide your policy on using personal devices and put I tin writing before you issue mobile devices to staff.
Mobile Phone Numbers. If you've decided to assign mobile phones to your employees, it's important to think about who owns that mobile phone number. If the employee leaves the company, current clients of your business may still call the mobile number expecting to speak with him or her. If you'd like to keep the mobile phone number, make sure that's clear when you're assigning the device to your employee. It's important to include this in your company's mobility policy and be sure your employees understand.
Data Storage. If your employees have taken to using their own personal mobile devices for work functions, it's important to implement a local data storage policy. What will you allow your employees to download to their mobile devices? There must be a clear line drawn as to what employees are allowed to use on their mobile devices and what must only be used on work computers with full security features.
A secure and clear policy for mobility security is so important to protect your business and clients' privacy. Give Firewall Computer Services a call today so we can help with this process!
24/7 Business Computer Support in Orlando, Winter Park, Maitland
If you need immediate IT services in Orlando and the surrounding area, feel free to call our 24/7 IT support team at Firewall Consulting.