As a professional IT services company in Orlando, we at Firewall Computer Services get lots of questions about  new mobile devices.
Did you recently buy an iPad or iPhone for either your personal or business use? Congratulations!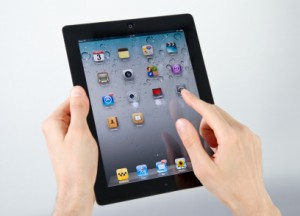 become a must-have tool for shopping, instant communication, and closing business deals on the spot. The addition of one of these awesome technological advancements will skyrocket your on-the-go abilities to new heights. Now that you've made such a wise purchase, there are a few things to make sure your iPad or iPhone is secure and ready for action. Here are the five most important things you should do right after buying your device.
1)     Call Firewall Computer Services. One of our expert technicians would be more than happy to help you set up your iPad or iPhone. We can put all the applications you'll need for personal or business use so you're up and running in no time. We can also help you to set up security measures with the device so you know your personal and client data is protected. A Firewall Computer Services tech can link your personal and work email to the device, and help you organize all the applications. We can even show you a few new things that will make your workflow easier.
2)     Enable 'Find My iPhone or iPad.' This is a free service that can allow you to locate your iPhone or iPad when you've lost it. After signing up for the app through your iCloud account, it can notify you of the status of your phone by email in case it's lost.
3)     Enable 'Auto lock' and 'Passcode' lock. This goes hand in hand with the possibility of your iPad or iPhone being lost or stolen. With an enabled passcode and auto lock, if your device is idle for a specified period of time, a passcode is needed to unlock the device.
4)     Buy a case. iPads and iPhones are sturdy devices, but all it takes is one drop to end it all. As soon as you buy a device, be sure to buy a case for it that fits well. Breaking such an expensive and needed device simply because it wasn't protected can be tough to swallow.
5)     Set Notification Preferences. The applications on your iPad or iPhone are usually defaulted to send you push notifications anytime something new happens. You can disable this for applications that aren't as important so you're not inundated with notifications.
If you're ready to set up your new device with the most aggressive security features and the most useful applications, give Firewall Computer Services a call today. We'd love to help!
24/7 Business Mobile Device Services in Orlando, Winter Park, Maitland
If you need immediate help from an IT services company in Orlando and the surrounding area, feel free to call our 24/7 IT support team at Firewall Consulting.