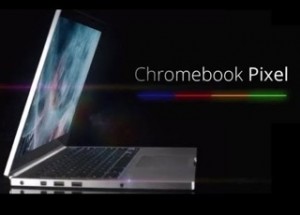 There's no two ways about it – you either love Google's original Chromebook, or you hate it. A lot. The original Chromebook was a bare-bones machine with a bare-bones OS that got the kind of reviews you'd expect from a machine of that price and functionality.
Fast forward to today, and we're dealing with an interesting proposition – another Chromebook at over five times the cost of the original. Is the new Chromebook Pixel worth the cost? Let's find out.
Exterior – Designed the be Cool and Durable.
In terms of design, there's only one standard by which to compare the Chromebook Pixel – by stacking it up against Apple's MacBook Pro line. In this case, the Chromebook Pixel stands up admirably – even giving the MacBook series a run for its money. The Chromebook Pixel's aluminum exterior is sleek and cool without losing its durability and rigidity. One needs not be tender when opening the Chromebook Pixel. It's hinged almost the entire width of the machine and all the corners and edges are machined so they aren't sharp – something other manufacturers have lost sight of, causing users to suffer at the hands of sharp corners – especially on the typing surface.
The 12.85-inch, 2,560 x 1,700 IPS LCD screen is tall compared to most models (16:9 is the most common, the Chromebook Pixel works out to a 3:2 aspect ratio) but the extra room is welcomed when it comes to managing space. Overall the screen has good contrast and low glare.
The keyboard is a welcomed design, however the function keys are very close together – touching, in fact. Not a huge issue, but it does take some getting used to. The fact that the entire keyboard is lit makes this even less of an issue for users.
Interior – Meant to be Functional
A 1.8GHz Intel Core i5 processor can be found under the hood. And while it may seem a tad on the underpowered side, it handles just about anything you can throw at it, considering the nature of the Chromebook Pixel – limited apps, web-based programs, etc.
Google estimates about five hours of battery life for continuous use. Some tests have failed to produce even that amount of time, giving the Chromebook Pixel more of a 'temporary portability' feel. If you're on the go and plugged in, this isn't much of an issue.
The Chrome OS is responsive, but still has room for improvement – such as the file explorer that forces users to scroll far more than they should considering the screen's resolution. (Side note: It's possible to run Linux quite easily on the machine and many have bought the Chromebook Pixel specifically for that purpose.)
Pricing – Value and Incentives
A review of pricing for the Chromebook Pixel is pretty easy because there are only two options.
For $1,299, you get the WiFi model with 32GB of local SSD storage.
For $1,449, you upgrade to the LTE model, which throws in 64GB of storage.
On top of this, Google really wants to sweeten the deal for you. They are offering 12 free Gogo passes for in-flight connectivity (worth about $14 for a total of $168). The other, rather more valuable Google add-in, is 1TB of cloud storage free for three years (worth about $1,800).
For those in need of a laptop with true operating system capabilities – this is not your choice. For those who don't mind the idea of cloud storage, limited OS capabilities and plugging in more often, the Chromebook Pixel is worth a deeper look.