Finding the right gifts for the man in your life requires a certain amount of planning and knowing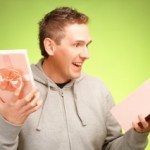 exactly what he (or she – all of these gifts work for men or women) will appreciate in terms of technology and usefulness. So, before you go out and waste your time on a gadget that's really cool, but is of no practical use, read over this handful of gifts that will actually be appreciated – and used – as we head into 2015.
The Tetris Stackable LED Desk Lamp ($59.95)
If you sit at a desk and have ever wondered what it would take to spruce it up a little and make it more "hip" you're in luck. The Tetris Stackable LED Desk Lamp is a nostalgic piece of coolness in the form of a seven stackable pieces that can be configured into a ton of shapes (just like Tetris) that may keep you busier than your typical workday. The pieces don't light up until they are interlocked – at which point, the LEDs fully illuminate. If you had a Game Boy at any point in your life, you'll have even more appreciation for this lamp that bridges the gap between nostalgia, technology and added light to your workspace.
Refuel: Smartphone Propane Tank Gauge ($53.48)
Running out of propane in the middle of grilling for family and/or guests is no fun at all. Previous analog gauges were reliable – when you looked at them. But if you're like most guys, you know when you're about to run out of propane about two minutes too late. Refuel changes all this by wirelessly connecting your phone to a gauge on the tank, so you'll always know your tank's current level.
Even if you don't have your phone, one tap of the gauge reveals whether you have enough gas for the time being by showing you a bright-green display.
Grillbot – Because You Hate Cleaning Your Grill ($119.99)
Spending an entire day cleaning your grill is no fun. Trying to chip, scrape and wash away the remnants of last year's (or the last years') is time-consuming and labor-intensive. That's where Grillbot takes over. Just set this little automated cleaner (think of it as a Roomba for your grill) inside and let it work its way through the baked on carbon and food build up of last-year's cookout memories.
By the time Grillbot is done, you'll have had enough time to plan an entire season's worth or grilling recipes – and another year's worth of buildup on your grill.
Bowers & Wilkins P5 Series 2 Headphones ($299.99)
If you're serious about music and want to look good while you listen to it, then the Bowers & Wilkins P5 Series 2 is the set of headphones you want. Stylish enough to wear just about anywhere, and serious enough to give you quality audio wherever you go, these headphones are the best blend of form and function (and price) that have been on the market in quite some time.
As you can see, this list isn't just tech for the sake of tech – it's a list of useful items that use technology to make them even better. Buying any of these gifts will set you apart as a gift-giving hero this Christmas. And isn't that what the holiday-season is all about?