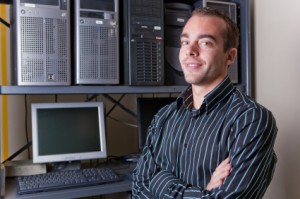 Small businesses often struggle with the decision between maintaining an in-house IT department, or outsourcing IT services to a third-party. And while much of the discussion boils down to money and costs, there are many other factors that will, and should influence the decision. Outsourcing your Orlando IT support on a monthly basis can have benefits in several areas, including:
Your Office Technology and Productivity
Keeping workstations and servers running at peak performance is important for any business. Slow workstations and servers can lead to less efficiency and productivity – resulting in downtime and lost profit. Whether it's mis-configured programs, spyware/virus infections, fragmented hard drives or some other issue, outsourced IT support for your network, means downtime and inefficiency is kept to a minimum and productivity is maintained – saving you both time and money.
Disaster Recovery for Your Business
Having an experienced technology provider manage your backup and recovery processes is a smart idea when it comes to IT services. Orlando is no stranger to hurricanes and other severe weather which can be disastrous for unprepared companies. Backup and recovery services are a critical part of any disaster recovery plan and, with today's changing backup technologies, it's often difficult to determine the right system on your own. An expert in outsourced backup and recovery can be the missing link to getting the right technology for your business needs.
Virus and Malware Protection
Viruses and other malware are evolving at an alarming rate. In fact, they're evolving so fast that standard out-of-the-box anti-virus protection is no longer adequate. Today's protection requires a multi-faceted approach that must be carefully managed in order to be the most effective. Outsourced IT support providers keep up with the latest trends in malware and anti-virus protection and can configure the right mix of hardware and software to protect your network and mission-critical data.
Firewall Computer Services – Your Partner for IT Support in Orlando
As an Orlando IT support services provider, Firewall Computer Services has experts in the configuration and roll-out of networks for small and medium size companies. Our goal, when we first meet with you, is to get to know your business and evaluate your needs and expectations based on your individual requirements. Once we're acquainted with your business, we can match your needs to best technology for the job. It's how we help companies in and around Orlando save time, money and hassle when it comes to monthly IT support.
24/7 Business IT Support in Orlando, Winter Park, Maitland
If you need immediate IT services in Orlando and the surrounding area, feel free to call our 24/7 IT support team at Firewall Computer Services.