Currently, the tech market is saturated with cutting-edge smartphones, from Apple's iconic iPhone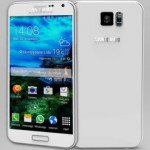 to the Windows Phone and Samsung's signature Galaxy series. As technologies progress, consumers are treated to an array of never-before-seen features, and certain producers' products have seen more success than others'. Samsung's latest Galaxy S5 saw the company fall near the bottom of the pack, as users were underwhelmed by its plastic casing and clunky touch interface, but their most recent announcement may just give them the boost they need.
Expected to debut this spring, the Samsung Galaxy S6, known internally by the mysterious moniker "Project Zero," has a number of features that will put Samsung back in the running for best smartphones. First of all, designers have finally made the decision to ditch the outdated plastic body, opting for a sleeker, richer metal body. Secondly, the phone will come standard with a sharp-shooting 20MP camera. But possibly the most interesting change of all will be applied to the phone's screen.
Following the success of the Note Edge, the company's large-display smartphone/tablet with a curved right edge, Samsung has announced that the S6 will feature two curved edges, giving users the opportunity to view features in a different light. This unique feature allows Samsung to present a larger screen without adding bulk, as evidenced by the phone's purported 4.87 oz, about 7g lighter than the S5.
But will users really want to break this far from the norm? We have seen use of curved screens in a few other models, including the LG Flex, which uses an inward curve to purportedly increase ease of use. However, the newfangled design came at a hefty price, with the starting price tag coming in at nearly $1,000. Whether the curved edges and unique display of the S6 provides enough benefit to users to tack on such a premium remains to be seen.
One thing is for certain: the Galaxy S6 is unlike any smartphone on the market today, and it's certain to attract many early adopters and tech fanatics. Until then, we'll be keeping our eyes out for reviews. To learn more about up-and-coming technologies, including smartphones, be sure to follow our blog. Contact Firewall Computer Services at (407) 647-3430 today.