Any and every good Orlando business understands the importance of a disaster recovery plan. As we all know by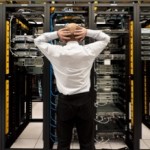 now, life has the habit of throwing curveballs our way when we least expect them, leaving us to pick up the pieces and attempting to move forward without too much more of a mess. But when that curveball involves damage to a company's crucial and confidential information–whether by fire, flood, or any other type of freak occurrence–unprepared business owners may find themselves in a bit of a bind.
Of course, a disaster recovery plan is just the ticket to help you ensure your operations continue on without a hitch. Here are three important questions to ask when creating your disaster recovery plan to help you get back on your feet without any detriment to your regular business:
Do I have clear, concise instructions for anyone who may need to use my disaster recovery plan? Chances are there are a variety of team members who will need access to your disaster recovery plan, from your IT team to your customer service reps and everyone in between. As a business owner, you need to ensure they all know how to proceed in the case of an emergency. Be sure to provide each involved team member with a detailed set of instructions that go over their unique roles in the disaster recovery process.
Does my disaster recovery plan protect crucial data and get my computers up and running again in an appropriate amount of time? Two key factors to mind in any disaster recovery plan are Recovery Time Objective (RTO), or the maximum amount of time that a network can remain down after a disaster, and Recovery Point Objective (RPO), or the maximum age of files that must be recovered for business operations to proceed. Speak with your IT leader to ensure that both of these factors are listed within your plan.
Could my temporary infrastructure be affected by the same disaster? To be effective, any disaster recovery plan must establish a temporary infrastructure to help keep things moving. You must effectively ensure that the same threat that destroyed your primary datacenter will not attack your new temporary one. Again, an IT professional should be able to guide you in the right direction.
By keeping these key points in mind, you and your IT team will be able to create a disaster recovery plan that allows you to pick up where you left off while remaining free from further vulnerabilities. To learn more about disaster recovery or to get started on a unique DR plan for your company, contact Firewall Computer Services at (407) 647-3430 today.