With the holidays approaching fast, many people are considering tech gifts that will be good for the whole family – from grandma,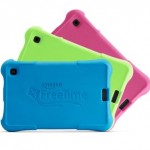 right down to the kids. In a lot of cases the top tech gift for the holidays this year will be a tablet.
But, with so many hobbies and habits among family members, deciding which tablet to choose as a gift can be daunting at best. We've compiled a short list of the three best tablets from the top brands and given you a brief overview of each and why they could be a fit for you.
The Kindle Fire HD 6 Kids Edition – $119
The Kindle Fire HD 6 Kids Edition tablet is what a 90's kids' dreams are made of. With a 6" HD screen, 8 GB storage, and up to 8 hours of battery life, it is not the most powerful in the league. However, it has the best in class parental controls that allow a parent to manage screen times and maximize the educational value of the tablet. The blue or green rubber bumper shields it from the rough times ahead, but just in case that doesn't keep it safe, Amazon backs this product with a 2-year worry free guarantee. If your little engineer figures out a way to break it, Amazon will replace it, hassle free.
The Kindle Fire HD 6 Kids was engineered to be easy to navigate and easy to use. It also comes with a year of Amazon Free Time, that includes access to 5,000 books, movies, TV shows, games, and educational apps. So there is no additional charge right out of the gate, and the kids can get busy playing right away. The tablet also has a front and back camera that kids can use to take and edit photos with in Amazon Free Time. They can use that app to add stickers, drawings, and more to turn a photo into a unique work of art. Priced at $119 this is a great bargain, especially when considering the warranty.
The Kindle Fire HD 6 – $99
The Kindle Fire HD 6 is easily the most affordable tablet on the market, and a huge step up for previous Fire owners. At just $99 this tablet offers the flexibility and power to do almost anything. It is small and portable, comes in 5 different colors, and has front and rear facing cameras. The 2mp rear-facing camera allows for high resolution photos and 1080p HD videos. The brighter display makes the whites whiter, and the colors far more vibrant, making the step up in graphics that much more enjoyable. The tablet also allows you to edit documents in programs such as Microsoft Word and Excel, making it a valuable commodity for someone on the go.
After the fire free trial is up you have the option to pay $9.99 a month for Kindle Unlimited, which will give you access to over 700,000 books. If you wish to be an Amazon Prime member then you can stream 10's of thousands of instant videos and songs to your tablet at no additional cost. There is also an extensive library of apps to choose from. The Kindle Fire 6 also comes with best in class parental controls, making it a family friendly device.
Apple iPad Mini – $249
The Apple iPad mini's biggest pro is its ability to run a large library of apps. However, since these apps were made for the larger screened iPad they tend to look a bit shrunken on the mini. To get access to these apps you have a minimum price tag of $249, that makes the mini somewhere in the range of $120 – $150 more than its competitors, if the ability to run those apps is worth the expense, than this is the tablet for you.
The iPad mini is slim, light, and elegantly designed. It features a 7.9" display, ultra-fast wireless with built in WiFi, a 5mp camera and 1080p HD video, with up to 10 hours of battery life. The iPad mini gives you access to over 275,000 apps in the app store. Starting at $249 you can get 16gb of hard drive, and up to 64gb of hard drive for a price tag of over $500, allowing the consumer to choose the appropriate amount of storage for their needs, but you pay well for it. The mini's graphics pale in comparison to its competitors, but it does come with faster web browsing performance. It also comes with well-designed parental controls, so a parent can choose single app play, meaning the kids are only allowed to play on the one specific app, and guided access, which locks important documents so you don't have to worry about them accidently being deleted.
As you can see, for every family, there's a good chance that there's a tablet that will match your habits and the things you enjoy doing online. So whether you're looking for a tablet that supports your gaming habits, or a tablet to replace an aging laptop or desktop, there are plenty of family-friendly choices that bridge the gaps between price, size and power.