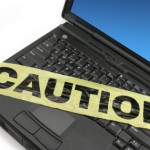 The latest phone scam to sweep the nation is a tricky one – and one that most people are easily falling for. As a responsible computer user, it's important to stay abreast on the latest scams to protect your business and personal information. As Orlando IT support professionals, we'll tell you everything you need to know about this computer tech related scam so you can avoid becoming the latest victim.
What's Happening: Computer users are receiving formal-sounding phone calls from scammers pretending to be representatives from recognizable tech companies like Microsoft. The scammer will tell the victim that they've recently performed a remote scan on his or her computer and found it's infected with viruses that need to be removed immediately.
In a moment of panic, many computer users will give the caller remote access to his or her computer. Once logged on, the scammer will install threatening-looking pop-up warning messages to scare the user into thinking they truly do need help. The user is asked to provide payment information before any work will be done. Also, with complete access to a victim's computer, many scammers will install malware that targets sensitive information, like social security numbers and credit card information. Some sweet-talking scammers will simply ask for credit card information right off the bat without ever logging in.
How to Prevent It: Simply know that a company like Microsoft will never randomly scan your computer remotely without your permission, let alone call you for virus removal. The only time you should be hearing from a tech company is when you're currently working on a problem with one of their representatives. Even then, be sure to know the name of the rep and verify his or her identity before going any farther.
Never give someone remote access to your computer unless you're 100% positive they are a rep from the IT company you have a current contract and existing support agreement with. If you have an existing IT contract with a company, there should never be a reason for someone to ask for your credit card information. Never give this information over the phone to anyone. If you receive a call like this, hang up and call your IT company immediately. They'll be able to verify if there's a problem or not.
If you think you've been victimized or you'd like more information on this scam, give Firewall Computer Services a call. We can help you get back on track and ensure your computers are safe and secure.
24/7 Business IT Security in Orlando, Winter Park, Maitland
If you need immediate Orlando IT support and the surrounding area, feel free to call our 24/7 IT support team at Firewall Consulting.